Bristol VR Lab is going to be hosting its fifth "Afternoon Seminars" event between 1-2:30pm on 16th May, 2018. The theme for the session is "Medtech". BVRL will be inviting local companies working in the surrounding fields along with VR and AR professionals in the area.
---
---
Speakers include:
Isabel Van De Keere, Immersive Rehab
Dr Isabel Van De Keere is the Founder & CEO of Immersive Rehab, a Virtual Reality digital health startup that focuses on the creation and development of physical & neuro-rehabilitation programmes in Virtual Reality that improve patient recovery. The goal is to increase the effectiveness of physical & neuro-rehabilitation, to reduce referral times­, to make rehab fun and engaging­, and to have a better patient outcome. Following a long physical rehab period Isabel went through herself due to a work accident, she decided to start Immersive Rehab in September 2016.
With a background in Electro-Mechanical Engineering and as a Doctor in Biomedical Engineering, Isabel is passionate about healthcare technologies, digital health, immersive technologies (VR/AR) and its applications in healthcare, using tech for good, social entrepreneurship, and promoting women in tech.
Chloe Barett, DigiDentistry
Chloe has designed and developed dental resources within dental academies together with the development of a new system of training dental students – which has successfully secured registration from four Awarding Bodies and achieved "direct claims" status, plus many more.
Intensive research has been carried out whilst completing the resources, where Chloe identified a lack of visual resources, in dentistry. With dentistry being such a visual and practical role, Chloe felt this was a significant loss.
Chloe clearly envisioned a 3D visual learning tool and how this could dramatically help learning within dentistry. Chloe has practised as a dental tutor/assessor, Dental Academy Manager and Programme Director so understands the need for practical learning, within this vocational area.
With the majority of learners using iphones and ipads within their studies, this is an exciting opportunity with regard to developing a new and unique learning tool, within the dental industry.
DigiDentistry Educational Resources are new, innovative and capture the imagination, improving engagement and academic grades. Digidentistry is an innovative and unique application driven 3D dental learning tool designed to stimulate and improve learning. Easy to use and even easier to learn!
Rachel Godfrey, GoVirtually
Rachel is managing director of GoVirtually which specialises in producing 360 degree, 3D virtual tours which allows people to virtually walk step by step through a building before visiting in real life.
Over the past few months, Rachel has been pushing GoVirtually to help people with autism prepare themselves before visiting a new place. She has spent time working with children with autism as well as parents/carers to really understand what information can be useful.
Christof Lutteroth, University of Bath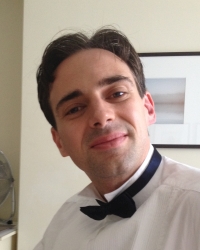 VR exergames combine physical exercise with gameplay in a virtual reality (VR) environment. Christof is a Senior Lecturer in Computer Science at the University of Bath, studying how VR exergames can be designed to be safe, effective and enjoyable.
In this talk Christof will outline some of the practical conclusions he and his colleagues have drawn from their research on VR exergames. He will talk about some common challenges of VR exergames and explain some game features that have been shown to improve the game experience and the effectiveness of exercise.
bath.ac.uk/comp-sci/research/marvel/
https://www.youtube.com/playlist?list=PL9PSQmAWAiZSn1Kvy9ELolNra4DjvDRg1
Dan Paintain and Iain Caldecott, CALTAIN VR
The company was formed following an idea that therapy treatment, working within virtual reality could have huge benefits on patients that suffer with pain conditions. The idea of developing structured programmes with goals delivered by therapists who could work alongside patients while in the virtual world has been completed by Caltain VR.
Both Dan and Iain are diagnosed with CRPS Complex Regional Pain Syndrome and importantly know and understand the struggles people face in dealing with a chronic pain condition. Dan has a lower limb condition while Iain has an upper limb condition. Both Dan and Iain are 3D Software Developers.
---
Bristol VR Lab is located on the first floor of the Leadworks building. The main entrance is via Bristol Aquarium and there is a push button doorbell on the left as you arrive. On entry to the lab there is a flight of stairs or a lift that may require support to use. Please let us know via email what access requirements you may have and we will be happy to assist you.